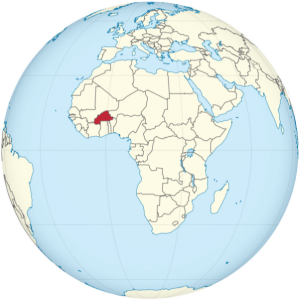 At St Mary's we feel that children should learn to be responsible, caring citizens and that this is central to the education each child should receive.
As a result of this, we have teamed up with local churches and neighbouring schools to provide support for the building and long term operation of a school in the Kodeni area of Burkina Faso.
Burkina Faso is a small African state in Western Africa which was formerly colonised by the French. It is currently one of the poorest countries in the world and state education is either very poor with class sizes of 100+, or non-existent.
In the area we support there was no available schooling at all which of course undermines completely any efforts to raise the standard of living or promote economic development.
We have committed ourselves to raise a minimum of £1,200 a year for each of the next 10 years and this money is channelled to Burkina Faso via the charity Aid to Burkina. Through our efforts, a school has been built and it has started to enrol pupils. We are now aiming both to extend the building and to embed the provision to ensure it can be sustained. Most of the work has been completed by Burkina Faso builders themselves with some help from visiting members of Folkestone Churches including a governor and local teachers.
Through this project and the related electronic communications that we have established, we are building up a long term relationship with people in Burkina Faso and helping our children to communicate with children of a truly different culture so as to understand what we can learn from their very different way of life. Our children also develop a greater depth of understanding about the needs of other people and begin to appreciate what is really needed to bring long term help and development.
We see this work as part of our efforts to keep the commandment to "love one another" and all our retiring collections for our Christmas services and other key festivals are used to take forward this project.
We receive regular project updates which are communicated to our children and their parents.
Kodeni School Project
First Day at School