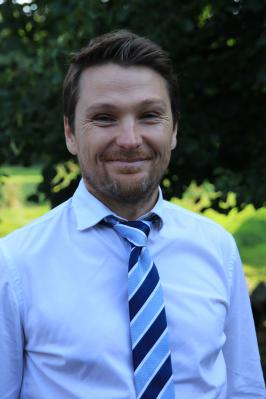 May I give you the warmest of welcomes to the Folkestone St. Mary's Church of England Primary Academy. I am extremely proud to be the principal of such a stimulating and vibrant church school and love my job.
At St. Mary's, we provide all of God's children the opportunity to enjoy a purposeful, aspirational and inclusive curriculum which provides the wisdom and knowledge to flourish in God's world.
A flourishing child in God's world is any member of our community. Our staff, pupils and parents as well as the wider community that we can influence are all shown the unconditional love that they need to succeed. We know that life lessons can be hard to learn and that reaching our full potential involves compassion, friendship, service and forgiveness. These are the core Christian values that underpin our work. They form the heart of all of the decisions that we make and ethos of our school community.
Our values are captured most prominently in the parables of the Two Sons and the Good Samaritan. The Two Sons teaches us that some people need more time and compassion than others to flourish and that our actions have consequences for which we must take responsibility. The curriculum at St. Mary's offers a wealth of opportunity, which is enjoyed by our pupils. Some, like the younger son in the parable, will need more time, compassion and encouragement than others to develop the skills to do this.
At St. Mary's, we teach everyone that mistakes are part of life's adventure and through friendship, forgiveness, compassion and service, we can live well together.
The Good Samaritan teaches us to show friendship through the acceptance of others, looking for the best in everyone without prejudice. In our school, children are encouraged to be kind, welcoming and generous. The same parable teaches us the importance of service to others, even when this is costly to us or we find it difficult.
We aim to ensure that pupils leave here:
Believing in themselves, with high self-esteem and self-confidence.
Respecting other's values, beliefs, feelings and points of view.
Able to model our Christian values in their daily lives.
Being able to communicate effectively with peers and adults.
Being able to read and write with enjoyment and apply maths with fluency at an age appropriate level.
Computer literate with a confident typing speed.
Have an understanding, appreciation and a secure knowledge of the world around them.
Understand how to lead a healthy lifestyle, stay safe including in the virtual world.
Recognising the positive contribution they have made to the school and wider community.
Richard Russell
Acting Academy Principal